It has been scientifically proven that plants in your home or office can make you feel more comfortable, soothed, and natural. Moreover, researchers have also found that horticultural therapy can, in fact, increase feelings of well-being among people inclined to depression, anxiety or dementia.
Not sure what Bokashi Organko is suitable for you? Take a quiz and find out! >>
More than a good-enough reason for you to get some pots or even better - set up a whole balcony garden, right? To help you get started, we have prepared a short list of balcony garden tips every beginner should at least skip through.

Choose balcony plants wisely
You don't want to get very demanding plants, especially if you are a beginner or don't really have that much time to keep an eye on them every day. Besides, you are setting up a balcony garden to relax, not to get a bunch of extra work and responsibilities, right? Therefore, the first of our balcony garden tips is to choose resilient plants. Here is a short list you can choose from:
Coneflowers

Daylily

Hens and chicks

Petunia

Yucca

Zinnia

Be aware of any possible weather conditions
The plants listed above will do just fine even if you forget to water them for a few days or happen to overwater them. They are also great at withstanding the heat and significant temperature changes. However, if you choose to ignore our balcony garden tips on getting less-demanding plants, you need to make sure you know exactly what kind of weather conditions you can expect on your balcony. For example, if there is a lot of sunlight, you should consider more tropical plants.
The other problem is wind. The higher up you are, the more wind you are likely to get. In this case, get wire trellis that can block prevailing winds while providing support for climbing vines, too. Since wind can quickly dry out the soil, you need to be more alert when it comes to watering. You might even consider investing in self-watering pots.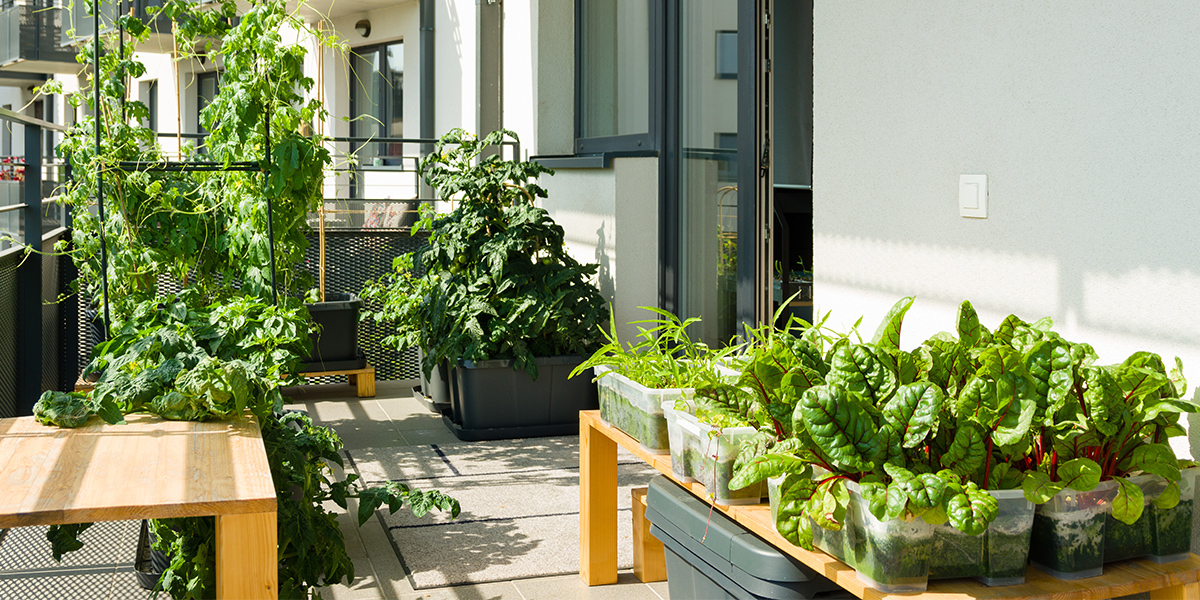 Make the most of your small balcony
Most city apartments don't have a huge balcony, which means you can't really import a whole jungle. Or can you? To make the most of your tiny balcony, we recommend setting plants in a vertical direction. You can use stacking and/or wall planters and use them to cover up a wall you don't like to stare at anyway. This will create a more aesthetically pleasing place to sit back and relax.
Moreover, if you don't have a wall between your and the neighboring balcony, you can use wall planters as a way of securing more privacy.
Another one in this group of tiny balcony garden tips is the use of hanging baskets. Flowers or plants you grow in them won't take any space on your floor. Furthermore, they will not only make your balcony look nicer, but will also provide some shade (and more privacy) for you.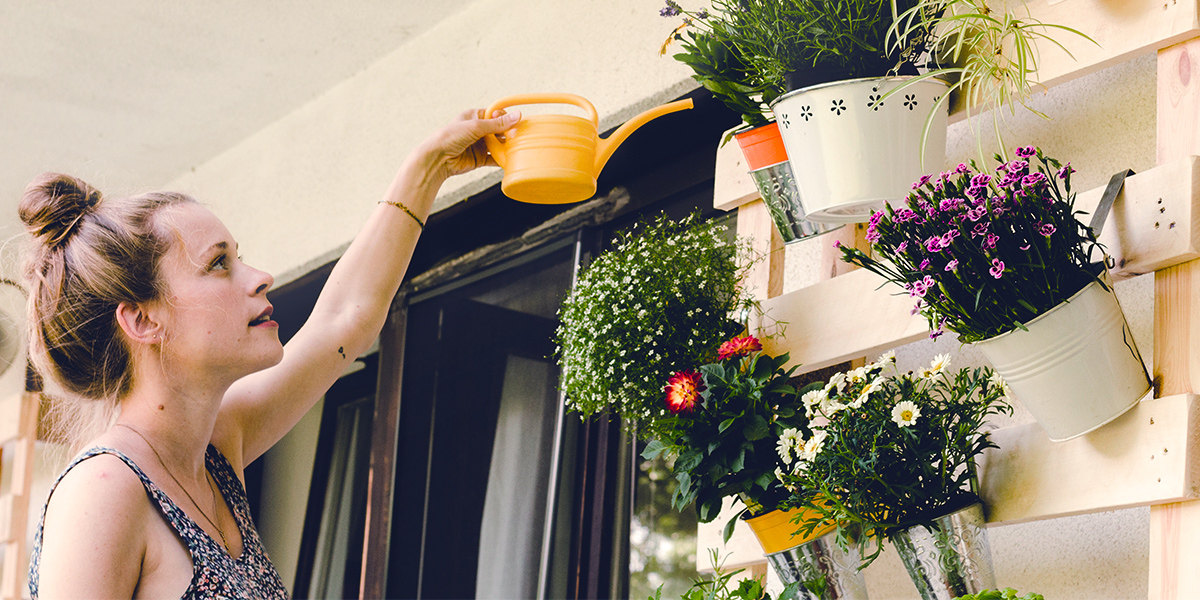 Make your own compost
This list of balcony garden tips would just not be complete without a suggestion to start home composting. This easy task will only take an extra minute or two of your day and provide you with a soil of excellent quality you can use to grow your plants. Also, it will solve the problem of the always full bio-waste bin and the stink that comes with it.
You can choose from various types of indoor composting bins:
Bokashi Organko 1 is larger and, therefore, more suitable to be kept on the balcony.
Bokashi Organko 2 is a smaller and more elegant version of the previous bin and is thus a very convenient addition to your kitchen counter.
Bokashi Organko 2 Ocean is designed exactly like Bokashi Organko 2, but is made from recycled fishing nets and therefore represents a more sustainable option for all of you ocean lovers out there.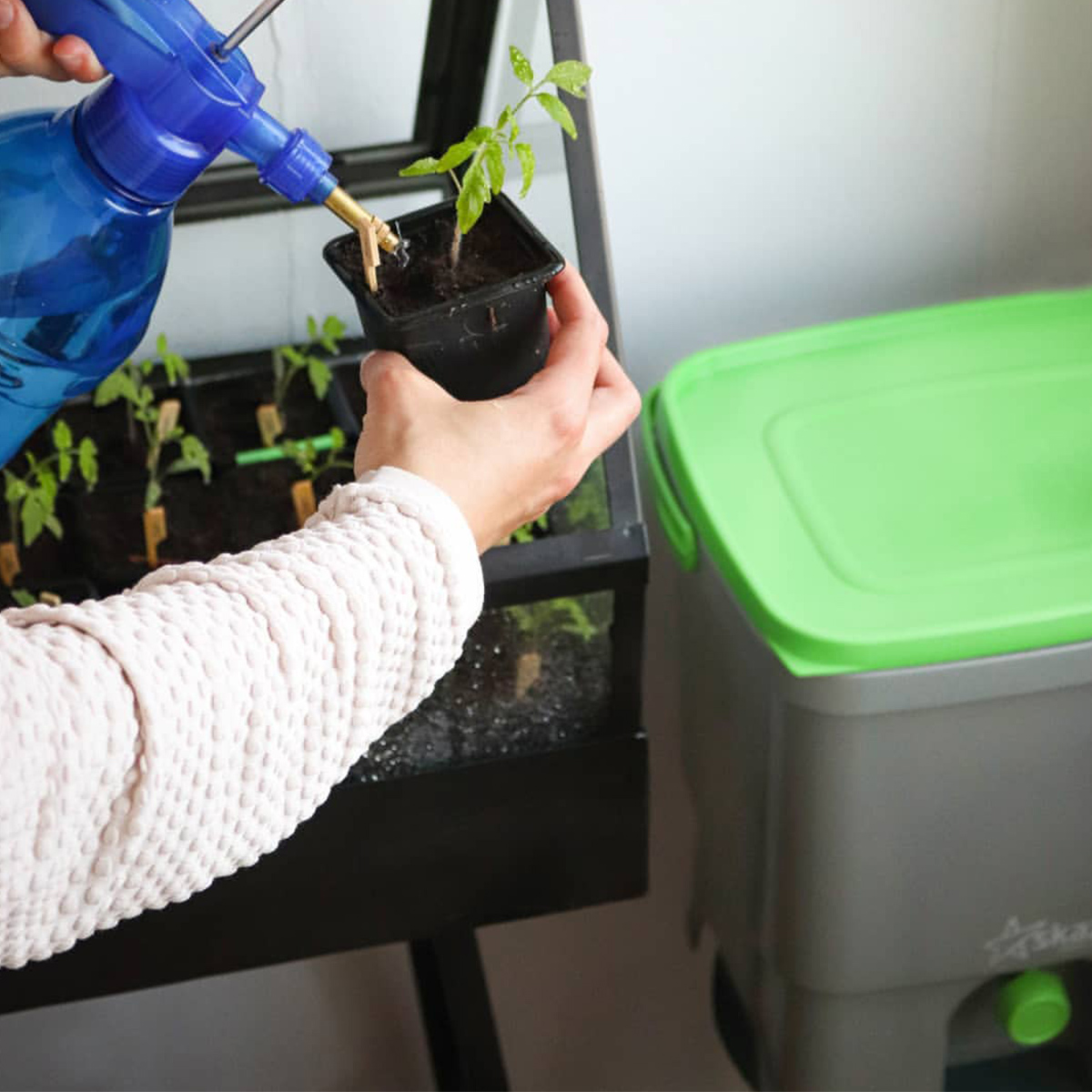 Hopefully, these balcony garden tips and tricks will help you get started. Once you become a professional and start writing your own blog about it, don't forget to mention us :) Happy gardening!
Not sure what Bokashi Organko is suitable for you? Take a quiz below and find out!