The environment is in fact the extension of our bodies. A single, connected and comprehensive organism, in which all-natural functions must be balanced. When poisons enter the body, we neglect and destroy them.
Subscribe to our blog Sustainable lifestyle >>
This is what is happening today with the environment that has been overloaded and contaminated by things that do not belong in it – plus we have taken too much from it, especially what we should not. Therefore, it is essential that we learn to cooperate with the environment to help restore it and to let it become a healthy part of us again. Let us become ecologically intelligent. Let us become ecologically attentive, ECO CARE!
At Skaza, we are an example of care for the environment. We have devoted our mission to the production of products that represent a sustainable alternative to conventional plastics, while at the same time we raise awareness about the problem of handling single-use plastics for both companies and individuals. We want everyone to see the problem and accept their share of responsibility, as we have done in the past. Skaza is a company with high ecological intelligence. We believe that through example, especially with our products and Viva 2, Pick&Go, Bokashi Organko lines and the support given to the broader social and economic community, we can all become ecologically more intelligent.
Skaza ECO CARE – a collection of perfect integrity
ECO CARE is not only an idea, not only an ecological collection of products or a communication task. It combines all the aspects that are important to people. ECO CARE products are made from recycled products or bio-material (EcoBib), which is environmentally and human-friendly. Natural raw materials are produced in a strictly controlled manner that prevents long-term adverse effects on the environment. They do not contain melamine and BPA, which can have harmful effects for both humans and the environment. The products are intended for repeated use and are suitable for recycling and fully comply with the new EU directives. In manufacturing, their carbon footprint is reduced. The ECO CARE line is raising awareness of users and directing them to the new ways of coexistence with nature and the environment through the new offer of sustainable products.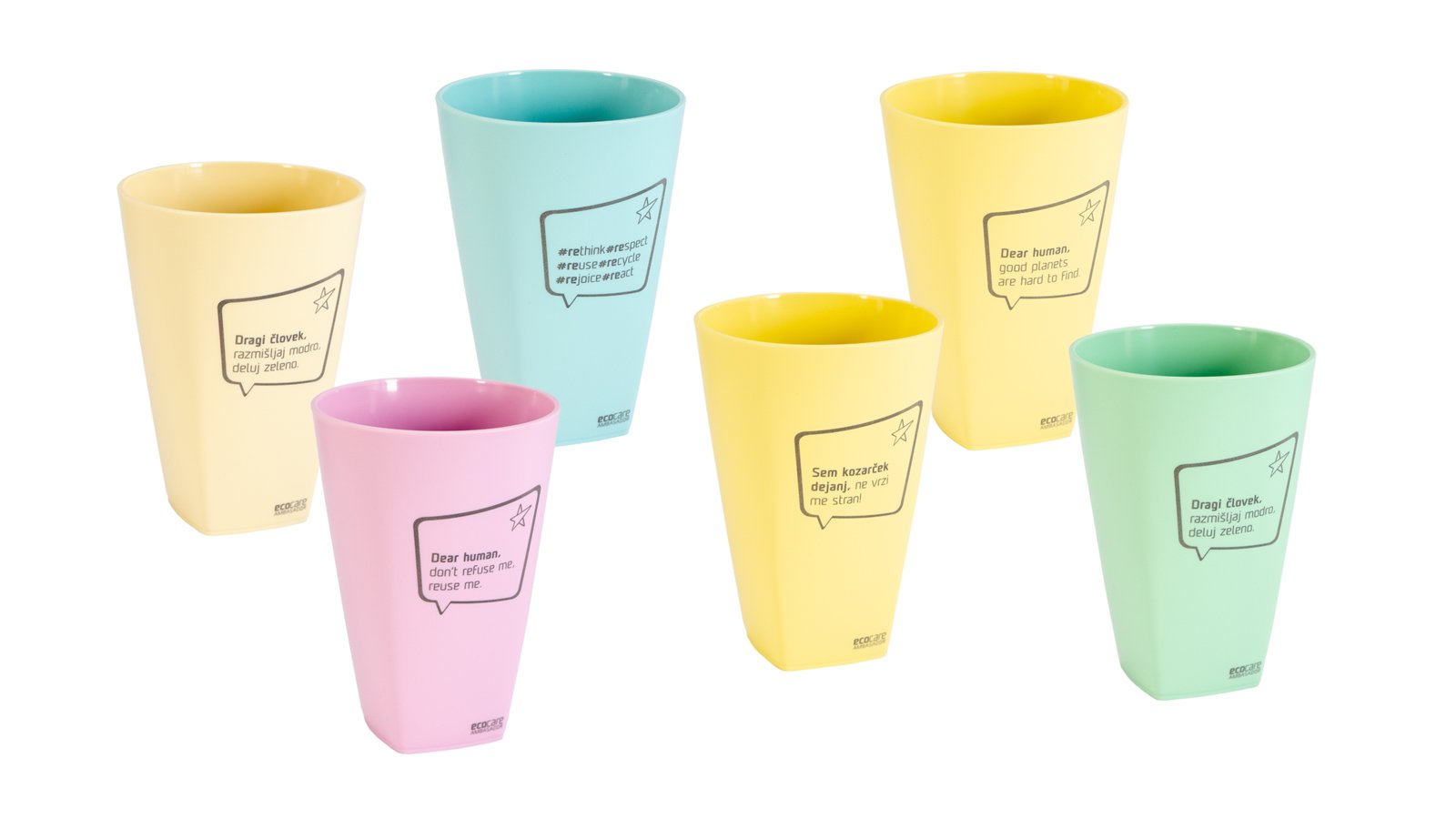 EcoCare Cup
Coffee. Tea. Or any other favourite beverage. With a delightful aroma, made according to our taste, or refreshing – in the morning, on the go, anytime and anywhere. It is a moment of break, pleasure and, if possible, even get-together. It is like a children's "meeting point" in a rush of everyday life, a tiny ritual that fills us with peace and gives us energy. Have you ever thought that whenever you throw a cup in the rubbish after that fine moment of pleasure you are also contributing to the infuriating global statistics, stating that people use as many as 500 billion disposable cups per year?
At least one ECOCARE CUP in every step of your way!
Change that habit. Become a user of Skaza's ECOCARE CUP that will be your constant personal companion. ECOCARE is a true alternative to those cups which we have been discarding after each use until now. We do not discard our ECOCARE CUP, but we re-use it every time because it always travels with us.
One ECOCARE CUP for me – 365 disposable cups less per year
ECOCARE CUP is an ingenious and original product made of organic material – sugar cane. Cups are completely safe for both users and the environment. The whole process of their manufacture means a minimal burden for the environment, the cups are intended for repeated use and later recycling, which additionally relieves the environment in the end. With only one beverage on the go per day using ECOCARE CUP, you will reduce the environmental burden by 365 disposable cups a year. Think!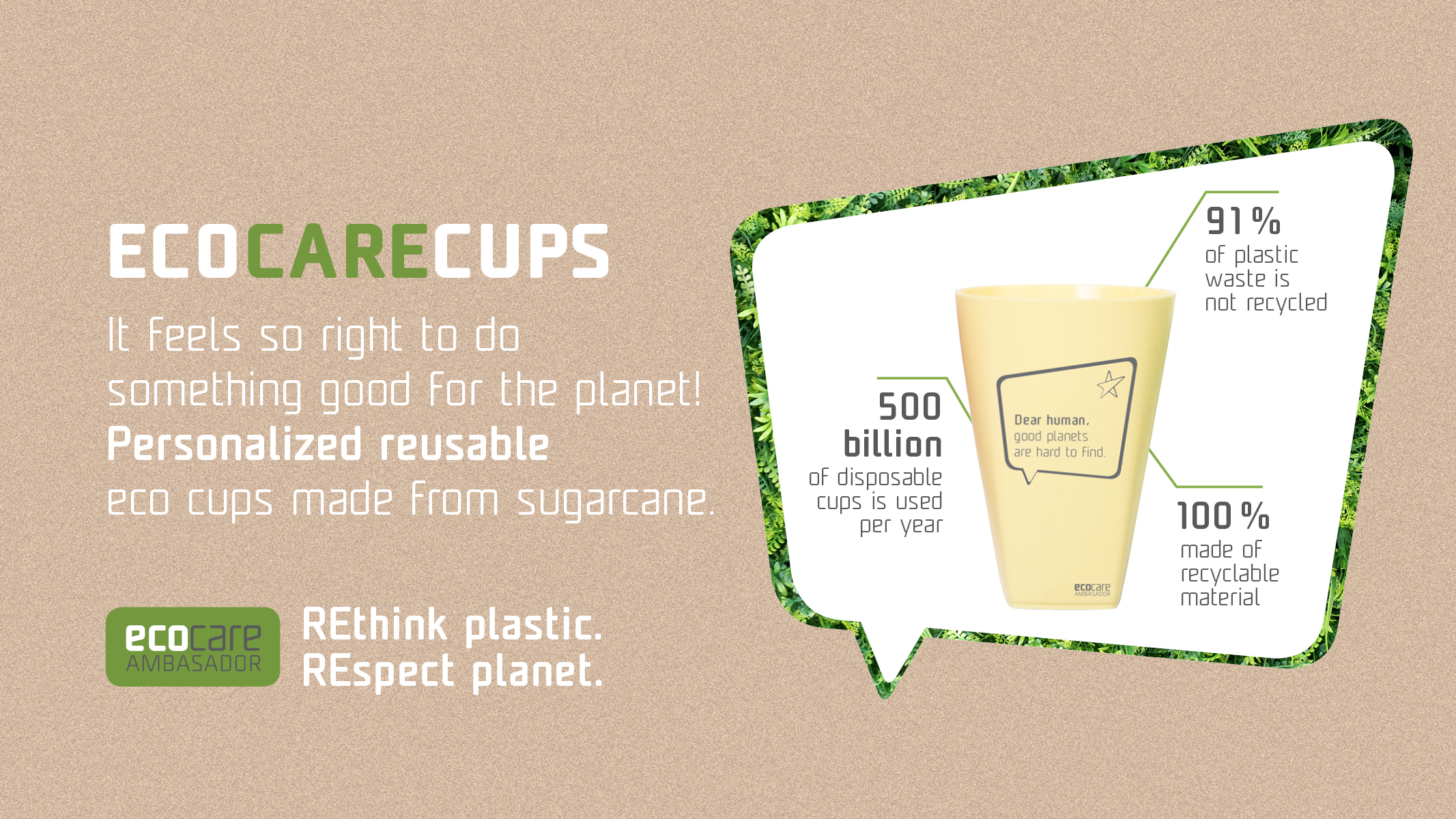 My ECOCARE CUP has my signature
ECOCARE CUP is your personalised cup. You can choose it in your favourite colour and with more insightful inscriptions reflecting your character and your attitude towards life, nature. When ordering a cup online, you have the option to choose your own inscription. There are plenty of options to choose from, and even if you are alone at the break, the ECOCARE CUP will keep you company.
The packaging is another aspect of a product experience
ECOCARE CUPS are available in attractive packaging that emphasises the unique products and gives them a clear ecological context. It welcomes you with a thank-you note, written as personally as your personal ECOCARE CUP is.
ECOCARE in companies
Ecological orientation and awareness are increasingly becoming a part of the companies' identity and positive public image.
To be ecological is an operational standard being rewarded by people in their positive response, whether related to the market, customers, partners or employees. Employees, especially, will enthusiastically accept the company's decisions to replace disposable cups in internal vending machines with the ecological ECOCARE cups. A company that adopts such a decision confirms high ethical standards and awareness towards protecting the environment. The idea can only lead a step further.
The ECOCARE CUPS are small attention to detail, but with a strong message. Additionally, employees will be overjoyed with the personal note if the company decides on cups with personalised inscriptions. The messages will bring part of the joy when gathering at coffee breaks, as the inscriptions invoke comments and conceptual creativity that will be coloured... in green. By switching to ECOCARE CUPS, you will save in the long run, but at the same time, you will spare – the environment! Spare the planet and make your employees happier!
Bokashi Organko 2, a kitchen compost bin, which will help you to start your circular management at home, brings the real revolution and innovation to your kitchen. It provides your biological waste and much more: it provides you with valuable ecological fermentation fluid for nourishing your plants. With Bokashi Organko 2 we get to know and experience the entire circle of life. In addition to the product being easy to use, well thought out and practical, it is distinguished by its superior modern aesthetics, which won the prestigious Red Dot design award. Bokashi Organko 2 means the most beautiful aesthetic solution for the most urgent challenge in our kitchens... and with its help, your home becomes green. Good grows from good!

We at Skaza have made it our mission to offer sustainable alternatives to plastic products and raise awareness among people of the issues of plastics, and about proper handling of plastics. We create innovations in the field of advanced and environment-friendly plastic materials and technologies. For this, we were also recognised by being listed among 1000 companies that inspire Europe (the London Stock Exchange list, LSE).

Hence we invite you to become an ambassador for protecting the environment. The guardians of our common home. Anyone deciding to buy and use the products from ECO CARE line is contributing towards environmental preservation. In order to connect everyone already taking the path towards sustainable development, and in order to attract even more followers, we have formed the ECO CARE Ambassadorship movement. It is quite clear who are ambassadors. People who care about the environment, are environmentally conscious and use products that are environmentally friendly, ECO CARE products. Those looking for useful and practical new products, those who do not burden the environment, and visit the ECO CARE website https://www.skaza.com/eco-care/.
Together, we learn the most conscious and also the most heartfelt forms of coexistence on this beautiful planet.
Want to read more tips & tricks about sustainable living? Subscribe to our blog Sustainable lifestyle, once a month receive a newsletter in your email box and become more environmentally friendly.