We are human to human – United at Skaza Charity Run when we help each other, we win.
The 6th Skaza Charity Run "Child to child", where children from as many as 56 Slovenian places collected charity kilo(meters) from the 27th of September to the 3rd of October, for a better everyday life for their peers, is behind us.
We are happy to see that our charitable running family is growing bigger with each year, with as many as 20% more children joining the all-Slovenian family run this year. Some famous Slovenes also supported the run – the TV host Tanja Postružnik Koren, the radio and TV host and Be Pop band member Ana Praznik and the Slovenian rapper 6pack Čukur. The number of sponsors who supported Skaza's traditional run also increased.
We are proud to share with you the news about a record amount we raised at the 6th Skaza Charity Run "Child to child". We will assign 12 thousand euros to a better quality of life for (y)our children and the smiles on their faces. We will renovate the city playground in Velenje, and we will also enable the planting of the trees in this area. In the last six years, we have gathered the amount of 55.800 euros at Skaza's charity runs with your help.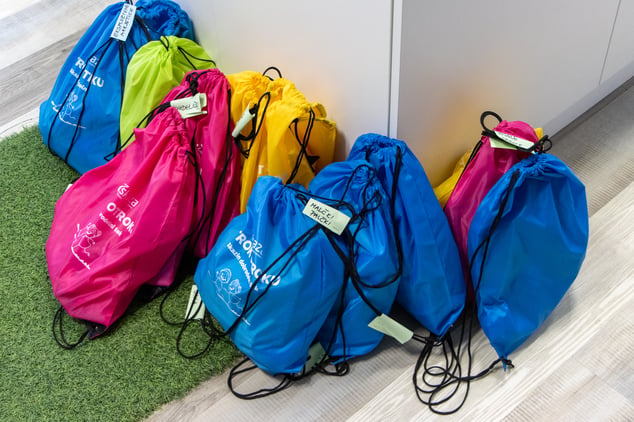 We want to give special thanks to the children, and of course, their parents, who took the "mission of helping" seriously and united the pleasure of running with a good cause. We are honored that our employees also respond in greater numbers every year. This year, a record number of them participated in the Employees Challenge, which we organize each year as part of the run. 34 employees and 47 kids were collecting charity (kilo)meters. We thanked them for their time, effort, will and good-heartedness with a surprise bag, and awarded the best of them with a family visit to the pools of Terme Olimia.
A special thanks goes to our sponsors, who each year show us how good-hearted they are. Let us highlight them with a mention:
DIAMOND SPONSORS: Gorenje Gostinstvo d.o.o., Ondulati ed imballaggi del friuli s.p.a.
GOLDEN SPONSORS: Terme Olimia d.d., Albis m.b.H., Schenker d.d., Robos d.o.o., Švikart d.o.o.
SILVER SPONSORS: Thermana Laško d.d., Fist d.o.o., Bluedesign Tatjana Remšak s.p., B.I.G. d.o.o., Embalaža d.o.o., Metaloprema d.o.o., MPT d.o.o., Volk Tooplast d.o.o., EDIT d.o.o., KGN d.o.o., Modri val d.o.o., Roplast Robert Hvala s.p., Uteksol d.o.o., Delight d.o.o., Jungheinrich d.o.o., Marko Krampelj s.p., Tera d.o.o., Tobos d.o.o., Lakara d.o.o.
With an important message that we win, when we help each other, conveyed to the children, we have given them the best guiding line for their lives.