In January 2024, France will embark on a path of sustainable change. With the enforcement of the law on mandatory separation of organic waste, new bins for biodegradable waste will be introduced throughout the country. The aim of this law is to increase the recycling rate of organic waste, reduce landfill burden, and promote active composting. Skaza joins this journey by participating in the upcoming Maison & Objet fair, where we will unveil an exclusive line of designer and eco-friendly products for sorting and composting biodegradable waste. Our unique design blends functionality and aesthetics to meet the needs of French consumers. This step also represents a significant contribution to internationalization and increased exports from Slovenia. Through this opportunity, we are laying the foundation for expanding internationally and actively enhancing Slovenia's presence in the global market.
Maison & Objet 2023: Premier Interior Design Event
Maison & Objet is a prestigious international trade fair for interior design, known for its focus on quality, innovation, and aesthetics. This event attracts visitors and exhibitors from around the world. At this fair, we will showcase our latest products: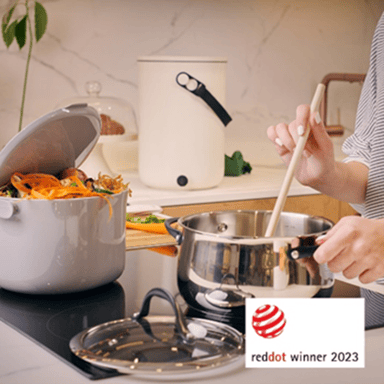 Introducing the Sustainable Champion Among Bio-Waste Bins - Organko Daily. Winner of the prestigious Red Dot Design Award, this exceptional 3.3-liter container for biodegradable waste is crafted from 90% recycled plastic. Organko Daily eliminates the need for plastic bags, allowing easy disposal into brown bins or direct addition to the Bokashi Organko compost bin, for those seeking to take an extra step.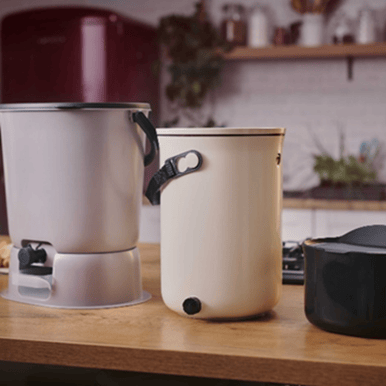 Bokashi Organko composters redefine food remnants, turning waste into a valuable resource for new life. By introducing microorganisms, users create an excellent compost base while obtaining precious fermentation liquid. This compost can nourish outdoor greens, fruit trees, and flower beds, while the natural, nutrient-rich liquid is perfect for watering indoor plants.
France - embracing sustainability!
Starting January 2024, France will enforce a law mandating the separation of organic waste, including the distribution of new bins for biodegradable waste to residents. The main goal of this law is to increase organic waste recycling rates, reduce landfill burdens, and encourage composting and other sustainable practices. This legislation underscores France's commitment to waste sustainability and environmental protection, aligning with other countries implementing similar measures. At the Maison & Objet fair, Skaza will unveil solutions for responsible organic waste management, in line with this law. Separate collection of organic waste is planned for households, businesses, restaurants, and other establishments. This approach will enhance waste processing into compost or biogas, while decreasing the volume of organic waste ending up in landfills.
Strengthening global presence and export to the French market
With a presence in over 40 global markets, Skaza is focused on expanding exports to France. Our dedication to solidifying existing positions and exploring new international opportunities paves the way for our future success. This commitment is showcased through our participation in international exhibitions, including the prestigious Maison & Objet fair in France. Our presence at this event is a strategic step aligned with our ambition to expand operations and secure new distributors on the global stage. Moreover, it contributes significantly to enhancing Slovenia's reputation as an innovative country committed to sustainability. This milestone highlights our adeptness at tailoring our offerings to meet the demands of the French market, ushering in new chapters of business prospects. Furthermore, it reinforces our role in this 68-million-strong nation, where we're constructing bridges towards a sustainable and innovative future.