In the world of plastic processing, where expectations regarding sustainability are constantly rising, Plastika Skaza, with over 46 years of experience, sets standards in the plastic industry. Openness to innovation and a sustainable focus make Skaza an excellent development supplier in over 50 markets, especially in the furniture and electronics industries. Discovering how Plastika Skaza optimizes production, we delve into the introduction of collaborative robots.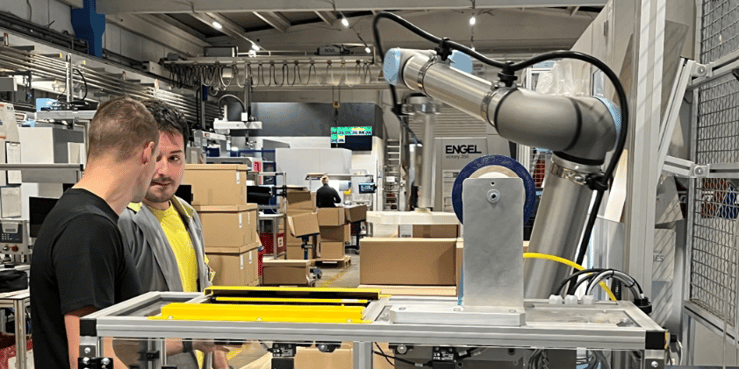 The Department of Production and Packaging Optimization is the heart of our innovative approach, striving to maximize all our production potentials. The most significant feature of our technological transformation is the collaboration between operators and collaborative robots. This unique collaboration enables seamless coexistence between humans and machines, with no limitations on safety. In their joint operation, robots relieve operators and elevate the level of productivity in our manufacturing processes.
One of the key goals of our technological transformation is to improve working conditions for our employees. Automation takes over monotonous and strenuous tasks of manual packaging, increasing productivity and providing a more ergonomic working environment for our staff. We express gratitude to our dedicated employees who have embraced technological transformation openly. The new technology not only eases their work but also enables personal and professional growth and development. With continuous investments in automation and collaboration between operators and collaborative robots, Skaza reduces its production costs, enhances the added value of products, and improves the quality and efficiency of production. This results in satisfaction not only among our employees but also among our valued end-users and customers.
We extend our thanks to colleagues who are essential to this vision for the future of production, where technology and human skill converge for collective success. Together, we are building a better tomorrow for us, our company, and the satisfaction of our customers. For more information about our innovations and services, we invite you to visit our website: https://www.skaza.com/plastic-manufacturing/our-services-and-advantages