With over 46 years of experience in plastic processing and injection molding, Plastika Skaza is setting standards in sustainable production of industrial plastic products. Our openness to new partnerships reflects our role as a developmental supplier present in over 50 markets, primarily in the furniture and electronics industries. We ensure precision, top-notch quality, and comprehensive support throughout the entire project, including efficient serial production, as evidenced by an extensive list of references that ranks us among the most competent partners.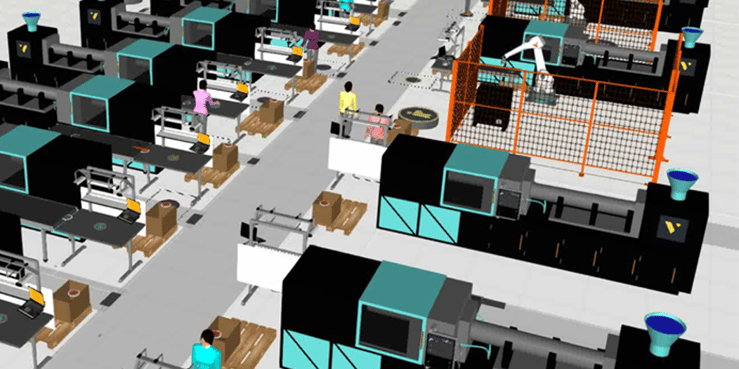 For more detailed information, visit: https://www.skaza.com/plastic-manufacturing/our-services-and-advantages
Taking a bold step into digital transformation, we are introducing a digital twin—an innovative technology that optimizes production processes and significantly contributes to improving the efficiency and performance of our manufacturing. The digital twin proves invaluable in optimizing production processes, programming robots, and enhancing the productivity of production resources. It allows us to explore various scenarios and make decisions, guiding us towards the most effective solutions for optimizing production resources, including machinery and personnel.
A crucial aspect of utilizing the digital twin is its positive impact on our customers. In response to open inquiries, we create a manufacturing simulation that includes process times, machine and personnel occupancy. This saves time, accelerates project implementation, reduces product costs, and increases competitiveness, as we can anticipate and optimize challenges in the initial phase.
Niko Medved, Assistant General Manager of Skaza, emphasizes: "The use of the digital twin enables us to internally optimize production, conduct simulations of future scenarios and new projects, and integrate these digital tools into sales processes. Through simulations, we actively engage in sales activities, allowing us to offer comprehensive solutions in a shorter time." Additionally, the digital twin enables operators to learn from simulations, improve work processes, and optimize workflows. Analysis of traveled distances, lift counts, and worker loads provides guidelines for improving the ergonomics of workstations. In line with lean optimization methodologies, the digital twin proves to be a crucial technology that accelerates and reduces the costs of optimization processes in production.
Skaza currently employs the digital twin in one production hall but plans to expand this practice to all its production facilities. This strengthens our position in Industry 4.0, propelling us decisively along the path of digitization 5.0.