The Ministry of Foreign Affairs and European Affairs organized the first discussion marking the 20th anniversary of Slovenia's membership in the European Union. The discussion, titled "Made in Europe, Made in Slovenia," shed light on the crucial question of the future of industry in the era of the green transition. In her opening speech, Minister of Foreign Affairs and European Affairs Tanja Fajon highlighted two key perspectives of the green transition: as a challenge for European businesses facing additional demands, and as an opportunity for Europe to become a leading force in the field of green technologies while simultaneously reducing its dependency on imported energy.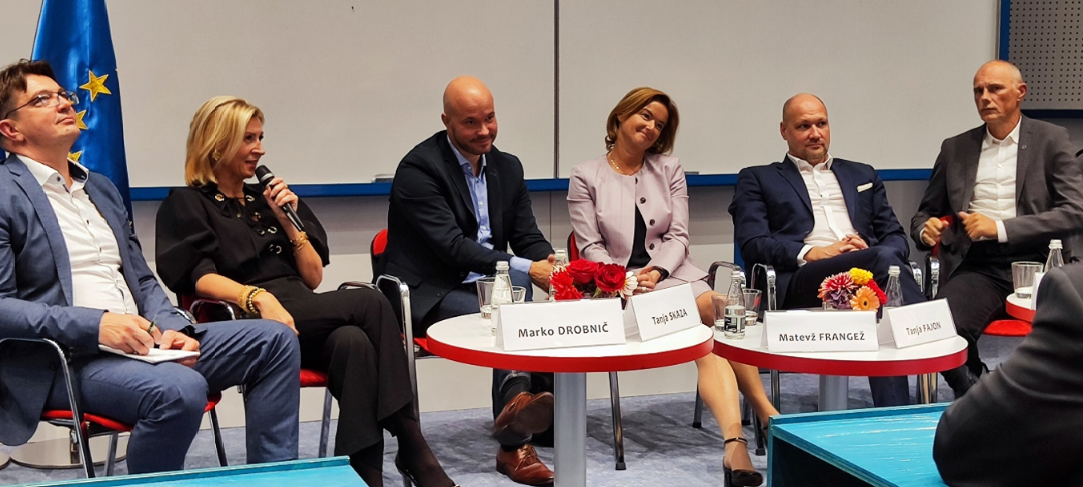 Besides Minister Fajon, the discussion was attended by the State Secretary in the Ministry of Economy, Tourism, and Sports, as well as representatives from the business sector, including Dr. Uroš Merc from Bisol Group, Tanja Skaza from Plastika Skaza, Dr. Iztok Seljak from Hidria, and Marko Drobnič from Talum. The discussion was moderated by Peter Frankl, the chief editor of the Finance newspaper.
Participants of the discussion agreed that the green transition presents numerous opportunities, but also challenges that Europe must address, especially in the current demanding global circumstances. Europe is recognized as a leading global force striving for economic, social, and environmental sustainability and sustainable living.
Tanja Skaza, the director of the Skaza Institute and co-owner of Skaza, emphasized the pivotal role of sustainable business: "Skaza is a pioneer in Slovenia, living sustainable values both in collaboration with the industry and in the development of our own brand. Crucial is also the collaboration among Slovenian companies to strengthen international presence, where Skaza is active in more than 50 markets, and to expand business-to-business (B2B) transactions."
The discussion also underscored the importance of ensuring equal competitive conditions with third countries and the need for closer collaboration between companies. With this event, Slovenia actively prepares for a future where sustainable and green industry will play a vital role in the economic development of the country and Europe.