Since the global pandemic stopped the world in its tracks, things are changing every day and in order to stay ahead, we have to adapt to new circumstances quickly. Adapting our approach in new, innovative ways is something Team Skaza is used to doing every day, and this time is no different. Our agile environment and years of experience enable us to quickly find the most suitable solution for our clients, even when that seems close to impossible.
Contact us to find out more. Send us an inquiry >>
In times when audit visits became increasingly difficult, if not entirely impossible, we found a way to make sure our clients still get all the information they require. We have created an online audit protocol that enables us to build trusted partnerships with new partners and allows them to enjoy the complete audit experience from the comfort of their office. Let's take a look at how online audits work.
Step #1: Initial Contact and Discussing the Potential for Cooperation
Establishing a partnership is a process that begins with introduction meetings and presentations that serve an essential goal: finding common interests and discussing the potential for cooperation. Once the potential is established, the following steps comprise paperwork: signing a non-disclosure agreement (NDA), filling out a self-assessment questionnaire, and sending an informative request for quotation (RFQ).
If the potential for cooperation is confirmed, the next steps include scheduling meetings, defining teams on both sides, creating the agenda for an online audit and preparation of all required documentation.
Step #2: The Online Audit Process
The online audit process uses two different approaches. The first one, Classic Conference Call – Online Audit Supported by Video Material, is a simple yet highly efficient tool designed to check the documentation and review video content. The second one, Live Stream Online Audit, is significantly more extensive and offers the closest approximation to an actual live audit.
Classic Conference Call – Online audits Supported by Video Material
A conference call online audit is a simple and effective way for potential clients to review our processes from the comfort of their office. The clients provide us with information on what they would like to see and which parts of our production process they are interested in, and we create a video of segments they will build their assessment on. Additionally, we can also schedule an online meeting with our experts to discuss any further questions and review all required documentation. This enables our clients to quickly and thoroughly find out everything they need to know about our production process and capabilities.
Live Stream Online audits
A live stream online audit is an in-depth review of our production processes that enables our clients to fully experience and review how we work. It is basically an online meeting with two of our teams at the same time. One team is set in a conference room, providing the information and answering questions, while the other team is streaming a live feed from the manufacturing facilities and presenting supporting video material. The client is in charge of what we focus on during the tour and therefore has the chance to have a closer look at any point of the tour.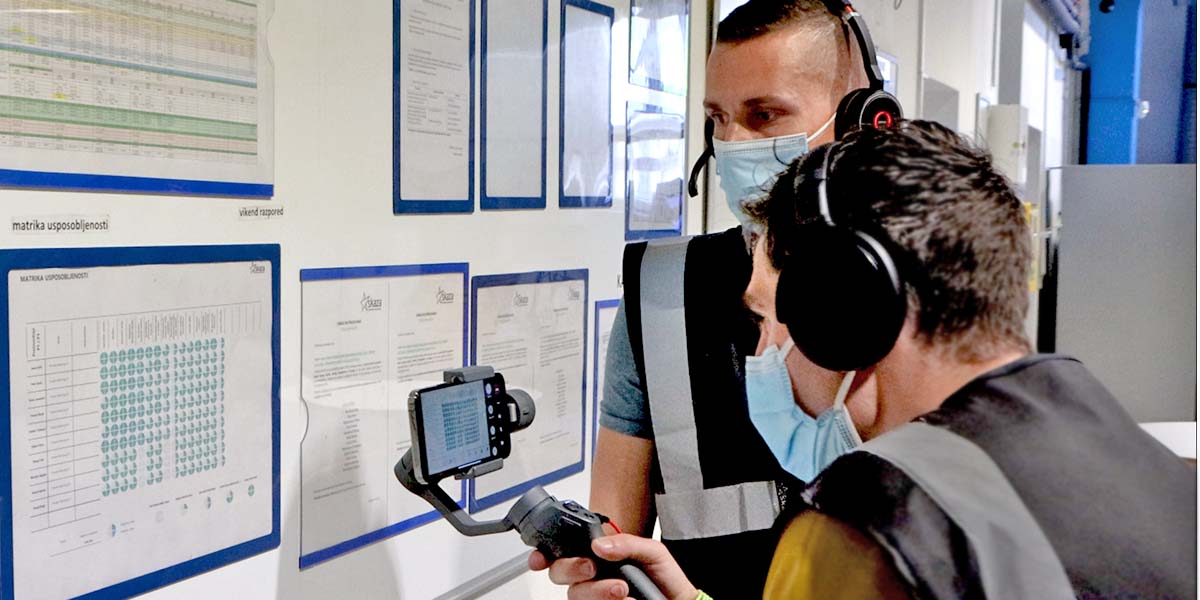 What's Included in the Audit Process?
The virtual tour is organized for each individual customer separately, which enables a personalized audit approach. Nevertheless, all important elements, including manufacturing facilities with individual manufacturing processes, always form a part of the tour, taking the clients from the initial idea through the production line and all the way to delivery.
Our online audits protocol covers the following key areas:
General organization – management, key information, corporate strategies and KPIs.
Quality management – quality systems and problem analysis, production and quality performance, quality control and measurement laboratory.
Production and maintenance – manufacturing processes and production control.
Supply chain – forecasts and capacities, logistics and delivery management, inventory and warehouse management, purchasing and procurement processes, incoming inspection.
Engineering development support – R&D and project management.
People, ethics, health and safety – quality skills training, health and safety, social responsibility.
Customer satisfaction – customer satisfaction surveys and KPIs.
Environment – environment and energy savings, RoHS and REACH.
Step #3: After Audit Activities
Once the audit is successfully concluded, the client is invited to provide us with feedback on any potential non-conformances. After these issues have been eliminated, an action plan list is created. The next step is the definition of new potential business and ranking on the client's supplier list. When all commercial points of the contract are defined, new business cooperation can be established.
Despite the fact that online audits are a relatively new approach, companies worldwide are using this opportunity to take a step forward to new business partnerships. In the past months, we have successfully passed 6 audits and formed trusted partnerships with new partners.
Join Us on Our Journey towards the New Reality
Even though the times are challenging, don't let this stop you in your efforts to form new partnerships and improve your business results. We would like to invite you to take a look at our introduction video to get to know the online audit process even better and contact us for further information on cooperation possibilities.
Looking for a partner who will manage high demands in manufacturing plastic products? Get a quote and become our partner.