Plastic product design and components engineering in the furniture industry has long been one of the key branches in Skaza's vast production catalog. We are very proud of our extensive collaboration with renowned furniture manufacturers who trust us not only with the production itself, but also with the product design and further process optimizations on many levels.
Contact us to find out more. Send us an inquiry >>
Our latest plastic product design optimization achievement is a convenient pull-out frame for recycling bins that helps you sort waste in just a few easy steps. It might look straightforward, but we had to put in a lot of research, brainstorming and work to make it look so simple, clean and easy to use. Furthermore, our engineers also found new ways to lower the production costs, use more durable materials and even make it more sustainable. Let's have a look at how we did it.
The first step is putting together an action plan
After winning a tender contract for this specific plastic product design optimization, our team of engineers started putting together an action plan which included comprehensive research of various aspects:
Which materials should be used to lower production costs and impacts on the environment, but at the same time keep a high level of quality?

How to make a final product as simple as possible for the final user? What is the minimal number of components we can use?

How to properly secure the product during transportation?
The comprehensive list of proposals for the plastic product design optimization we have prepared for our buyer showcases our deep understanding of both industries (furniture and plastic molding) as well as the vision we share with the client. Our long-lasting collaboration on similar projects in the past, proved to be a key player in finding the best possible solutions on all levels of production.
Let's have a closer look at the main proposals that made our optimization plan so successful.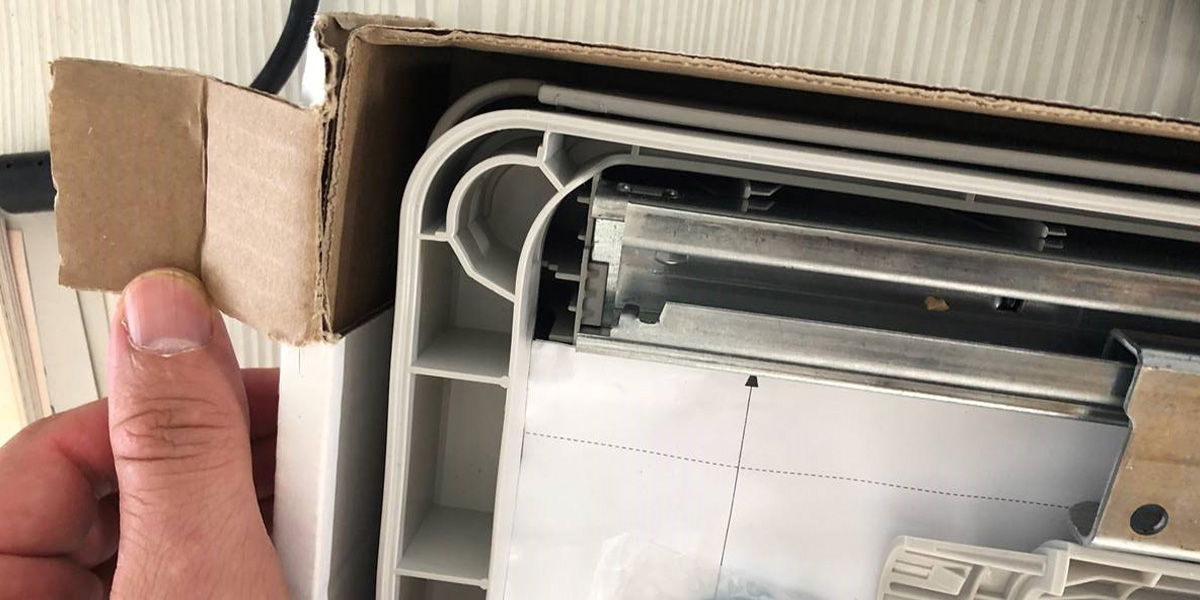 The lower number of components means faster production and better user experience
First of all, our engineers effectively managed to lower the number of components for this item from 35 to 16. Our goal was to increase the presence of recycled plastics in the item, since this would considerably lower the costs of the final product.
Moreover, with the development of our own practical knowledge on this topic, we were able to implement a new system with four fastening corners. This innovation allowed us to remove conventional fasteners and create a simple click system assembly, which not only brought the assembling time from four minutes down to just one, but also contributed to the sleek design of the product and, therefore, greatly enhanced the customer experience.
Material optimization
Before our developers took over the optimization of this plastic product design, the frame was made from standard polypropylene (PP). However, we suggested the introduction of recycled polymers, which significantly add to the sustainable value of the item.
Additionally, the other major contribution of our engineers is the introduction of material which would considerably lower the production costs and therefore make the item more affordable for the final buyer. Initially, our client used the so-called PA6 plastic for their previous product, but based on our knowledge of the material properties and numerous further analyses, we found a better solution and proposed to apply standard recycled polypropylene with talc instead. The use of talc helped us increase mechanical properties quality and lower the manufacturing costs. It is true that the initial investment in the manufacturing tool, in this case, was higher, but nevertheless paid off, as the price of the final product dropped by an astonishing 25 %. Fiberglass was used for fastening corners which hold an important mechanical function, but all in all, represent just a tiny proportion of the entire product.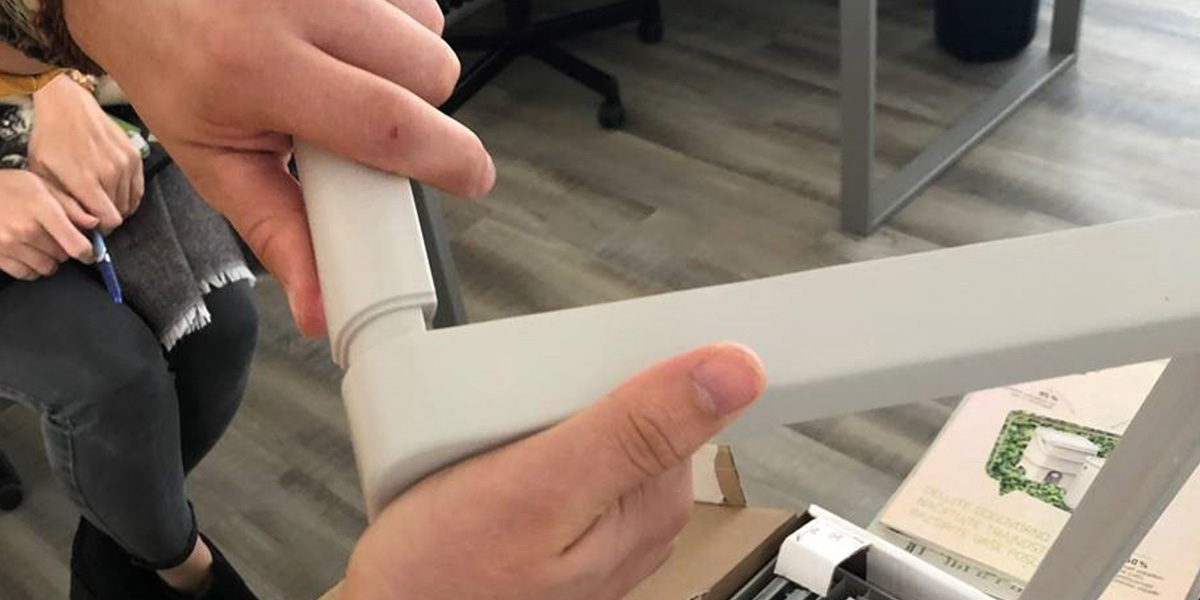 In the next step of the optimization process, the recycled material used was further mechanically enhanced and strengthened. Subsequent tests have shown that the frame is much more resistant to damage since we were able to bring the displacement value down from 3.6 to 1.2 millimeters, which also significantly contributes to a better consumer experience.
Optimization of packaging and transport
There are two more aspects of the whole process we invested a lot of thought in - packaging and transportation. Our goal was to reduce package size to its minimum, thus contributing to lower costs and even more importantly, lower the environmental impact.
In order to improve packaging optimization and reduce the size of the package itself, we created a special pin within the main framework. This plain sailing mechanism holds the whole package together by using force and no additional bolts are needed.
Based on the subsequent Finite Element Analysis Report, which served us to determine the fastening pin's maximum carrying load, we implemented additional improvements to prevent damaging the packaging.
Why is Skaza the best partner in plastic product design?
As you can see, here at Skaza, we manage all stages of the production: from plastic product design to its assembly and final shipping. This demonstrates the great trust our client has in our abilities and collaboration. And rightly so, as we never cease to work on process optimization, even after the project has already been confirmed by the client. We took our collaboration on an even higher level in 2015 when we established a Key Account Management team (KAM) which serves as an extension of our customers within our company.
Based on the example of this fruitful collaboration presented in this post, we hope to secure the trust of other companies who share our vision. Therefore, we invite future partners in furniture or other industries to contact us with their projects. We are looking forward to developing custom-made solutions side by side, providing our comprehensive knowledge in precision injection molding and facing all the challenges that may come up.
Looking for a partner who will manage high demands in manufacturing plastic products? Get a quote and become our partner.